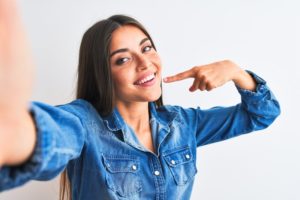 We know how important it is for a patient to have a bright and beautiful smile. Cosmetic dental treatments are widely available at most practices, including Cedar Mountain Dental in Newington, CT. Our facility is pleased to offer two very distinct whitening solutions for patients who have been unhappy with over-the-counter alternatives. We proudly provide both in-office whitening and take-home whitening kits. Which one is right for you?
What causes the teeth to stain?
Many patients are interested in learning how stains form on the teeth so they can better address the discoloration with a dedicated staff of professionals. Teeth staining can be a result of:
Poor oral hygiene habits contributing to plaque formation
Drinking beverages that are dark in pigment such as red wines, sodas, coffee, and tea
Tobacco use, including smoking and chewing tobacco
Starchy or sugary foods and promote the buildup of plaque
Knowing what is causing the staining and discoloration of your natural tooth enamel will help you understand how to maintain the results from your whitening procedure.
One-visit teeth whitening services
The first of our whitening services is that of our one-visit, in-office treatment. This treatment provides whitening up to eight shades brighter in approximately one hour. The treatment includes cleaning of the teeth and gums, and the use of a specialized bleaching gel that is activated using light. Patients relax while the treatment is performed from start to finish with one of our dental hygienists and the monitoring of our dental team.
At-home teeth whitening services
Another option available to patients is that in-home whitening kits. This home-based solution allows patients to whiten their smile gradually over several days and weeks until they obtain the desired results. Patients receive a set of custom whitening trays which are used with bleaching gel. Take-home whitening kits are also beneficial for patients who have had in-office treatment and want to continue to whiten and maintain their results with our stronger, more concentrated solutions compared to over-the-counter products.
Learn more about professional whitening solutions
If you reside in the area of Newington, CT and are seeking options for brightening the smile, look no further than the team of Cedar Mountain Dental. Drs. Zach Korwin and Gary Toubman encourage new patients to ask about professional whitening solutions, as well as other cosmetic dentistry options available in the practice. Call (860) 667-2600 today to book an appointment at our state-of-the-art facility located at 112 Market Square.