Implant Dentures – Newington, CT
Strong Replacement Teeth You Can Count On
If most or all of your natural teeth have been lost, you may have gotten traditional dentures so that you could enjoy a complete smile and chew various foods again. However, even the most modern dentures leave much to be desired in terms of how natural they feel. Instead, the majority patients have found that securing their dentures onto dental implants is the closest thing to having their natural teeth back. Here at Cedar Mountain Dental, our team provides custom-fit implant dentures in Newington, CT. Learn how they can help you by calling our office and booking a consultation!
Why Choose Cedar Mountain Dental for Implant Dentures?
Start-to-Finish Dental Implant Care Under One Roof
Dental Bone Grafting Available
Fully Digital Dental Impression Technology
What Are Implant Dentures?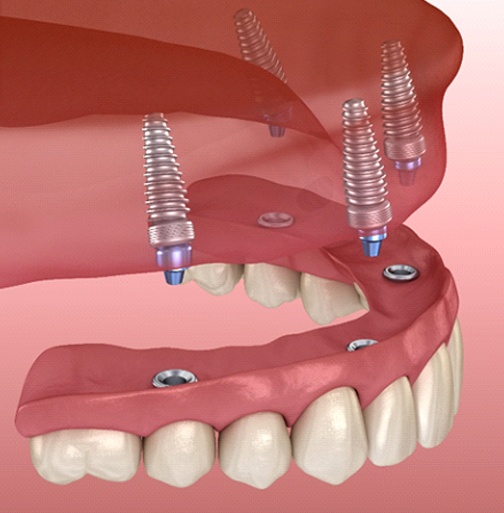 Like traditional dentures, implant dentures consist of a pink acrylic base that supports an entire row of prosthetic teeth. The primary difference is that, instead of sitting on the gums, an implant denture is anchored onto a small number of dental implants – small titanium posts that are placed in the jawbone and function as replacement tooth roots. As a result, an implant denture is just as firmly set in the jaw as the pearly whites you once had.
There are two types of implant dentures, and our dentists may recommend a particular type based on your circumstances and personal preferences.
Fixed/Permanent Implant Dentures
As the name suggests, fixed implant dentures remain in your mouth almost permanently. They can only be removed by an implant dentist in Newington, who may do so for routine cleanings or other treatments. You can typically brush and floss a permanent implant denture just as you would natural teeth.
Removable Implant Dentures
An implant denture can also be designed to "snap" off and back onto the implants with small metal attachments. That way, you can take your prosthetic out for cleaning. Removable implant dentures are often ideal for patients with lower jawbone density, as they don't require as many implant posts as fixed implant dentures.
The Implant Denture Process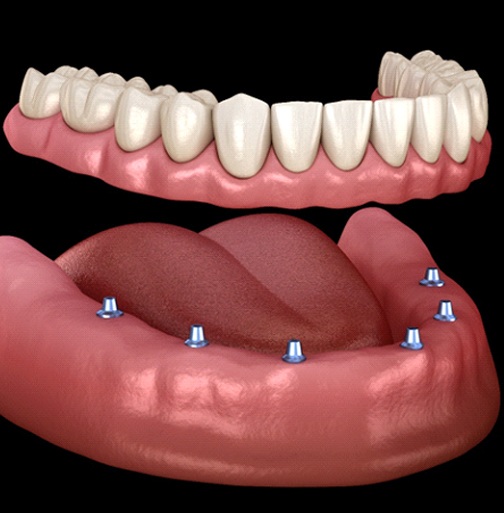 First things first, you'll need to attend a consultation with one of our dentists to confirm that you're eligible for dental implants in Newington. We'll evaluate your oral and overall health, answer any questions you may have, plan out your treatment, and schedule your dental implant placement surgery. As a Fellow of the International Congress of Oral Implantologists, Dr. Korwin can perform this procedure right here in our office, saving you from the added time and expense of visiting a separate specialist. He'll expertly position the implant posts at precise angles and locations along your jaw.
Your jawbone will spend the next several months growing attached to the implant posts. Once this process, known as osseointegration, is complete, our team will capture digital impressions of your mouth, which we'll use to design your final, customized denture.
Am I a Good Candidate for Implant Dentures?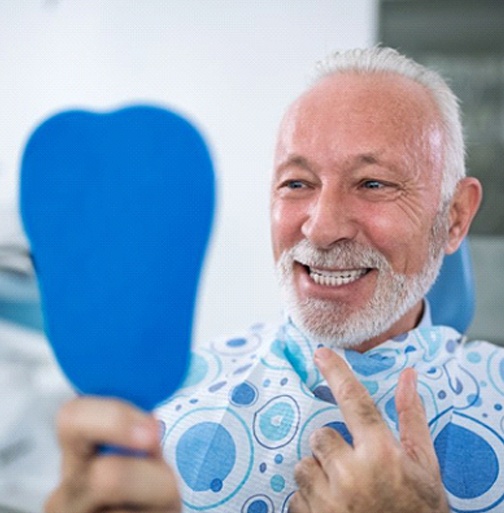 Dental technology has come so far that nearly every patient who has lost most or all of their teeth can potentially qualify for implant dentures. Generally, a good candidate will:
Have enough healthy bone structure in their jaw to support multiple dental implants.
Be free of oral or overall health concerns that might jeopardize dental implant surgery or the subsequent healing process.
Not be a tobacco user.
Even if you don't appear to be a candidate at first, that can change! Many of our patients need one or more preparatory procedures before they can meet the prerequisites for implant dentures. For example, patients who have lost bone density in their jaws may need to undergo bone grafting to give their new teeth the strong foundation they need.
The Benefits of Combining Dentures with Dental Implants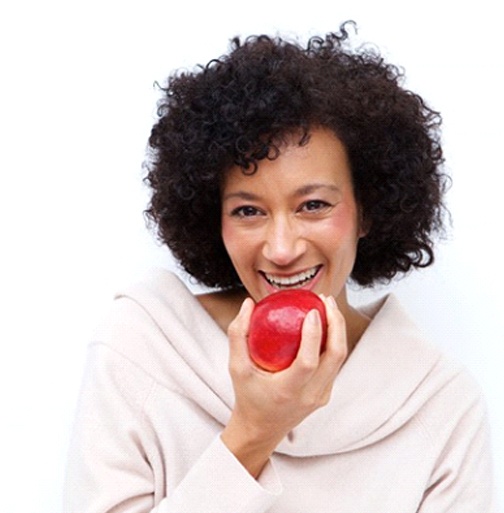 Most patients with implant dentures can attest to how superior they are to conventional dentures in nearly every way. Some of the benefits of implant dentures include:
Keeping the jawbone strong and preventing it from breaking down as it does ordinarily after tooth loss. This keeps you looking younger as a result!
Being able to potentially last for 30+ years. Traditional dentures, on the other hand, need to be replaced every five to ten years at most.
Requiring minimal maintenance. If you choose a fixed implant denture, your daily oral care routine shouldn't differ from how it was when you had all of your natural teeth.
Staying in place without needing messy adhesives strips, gels, or powders.
Helping you chew practically any food with ease.