Dental Implants – Newington, CT
Completely Restore Your Smile to Full Health
As useful as dentures and bridges are, they are just not the same as your natural teeth. They lack any roots and thus cannot perform the same functions as natural teeth that keep the jawbone healthy. Dental implants, on the other hand, offer a complete solution to missing teeth, so your new smile will look, feel, and function just like the real thing. Call Cedar Mountain Dental today to begin the implant process.
Why Choose Cedar Mountain Dental for Dental Implants?
In-House
Implant Surgery
Welcoming
Dental Team
Technologically
Advanced Practice
What are Dental Implants?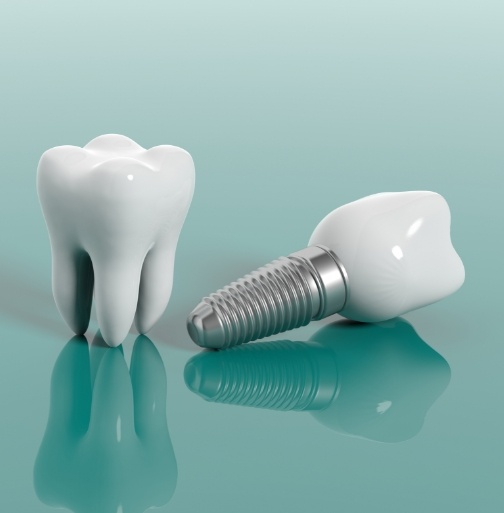 A dental implant is a small post that is placed in the jaw. By itself, it may be mistaken for a screw; once the mouth has healed around it, it can be used to support a crown, bridge, or denture. While your restoration will be used for chewing and speaking, your dental implant will be performing the important job of holding it in place while also providing stimulation for the underlying bone tissue. Implants are normally made out of titanium, a highly biocompatible metal that rarely triggers allergies of any kind.
The 4 Step Dental Implant Process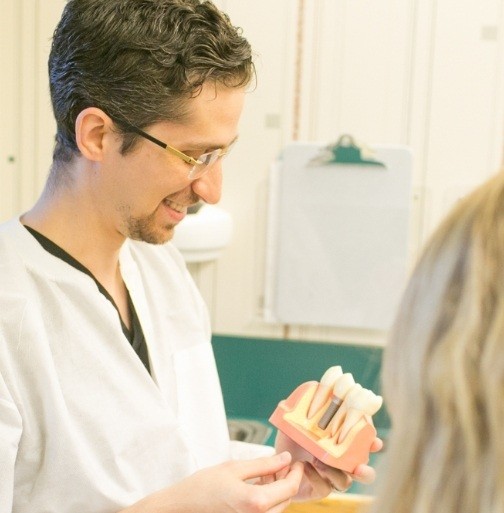 Step 1: Consultation: We will take X-rays of your mouth and consider your circumstances carefully to decide whether you can get implants. At this point, some preliminary procedures might have to be performed.
Step 2:Surgery: Korwin has been trained in the surgical placement of dental implants, so there will be no need to refer you to a specialist for this step.
Step 3:Osseointegration and Abutment: The implant will fuse with the jawbone after a few months, at which point a connector piece can be attached to the post.
Step 4:Final Restoration: Your dental implant restoration will be personalized so that it's a perfect fit inside your mouth.
The Importance of Bone & Bone Grafting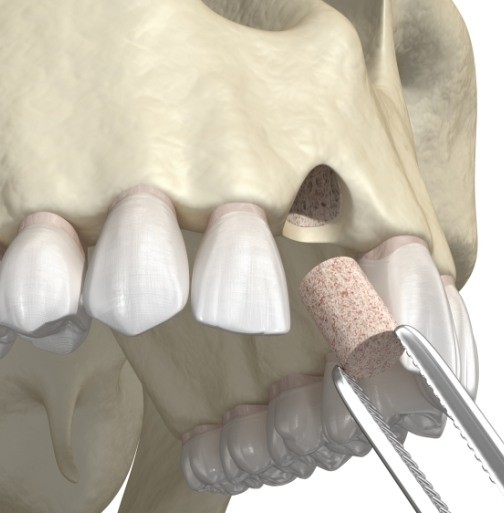 We may determine that bone grafting is needed before you can get implants. This is because in order for osseointegration to take place, there needs to still be a certain amount of bone in your jaw. Without the stimulation of natural teeth, the jawbone will start to be resorbed, and as a result bone density will decrease. With bone grafting, we can reverse the bone loss process by taking tissue from elsewhere in your body and applying it to the affected area.
Benefits of Dental Implants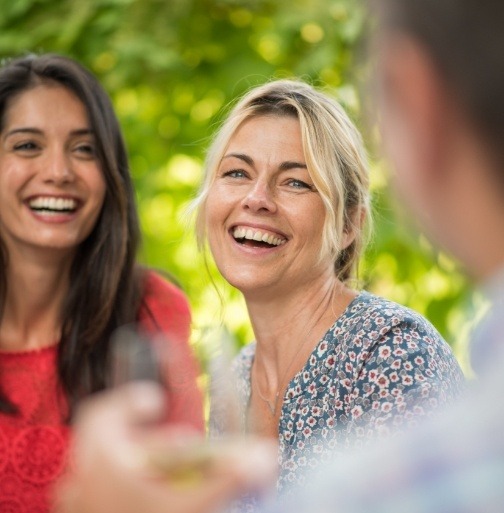 Your implants will help maintain your jawbone, which in turn improves your overall facial appearance.
You will be able to chew steak, apples, and other foods that are difficult to eat with dentures or dental bridges.
The implants will help prevent atrophy of the bone tissue.
It is much easier to take care of dental implants compared to traditional tooth replacements.
The average lifespan of dental implants is 30 years or more with proper care.
Who Dental Implants Can Help?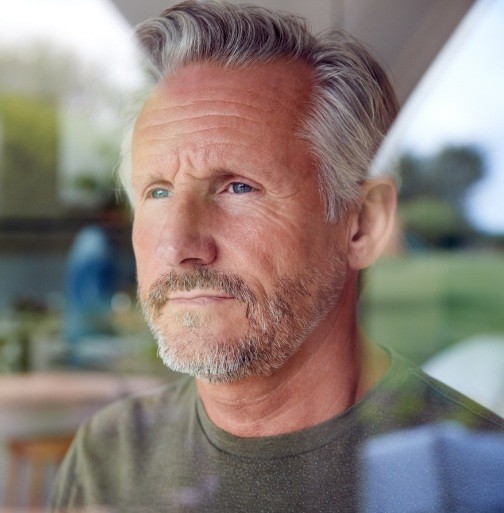 While dentists like to recommend dental implants to any patient that has missing teeth, the truth is that the procedure isn't for everyone. You can only get implants if you're in good overall health, if you aren't currently suffering from cavities or gum disease, and if you have a jawbone that's strong enough to support the posts. (All of these problems can be addressed with certain preliminary procedures.) If you're a good candidate, implants can be used to help you in the following ways:
Missing Single Tooth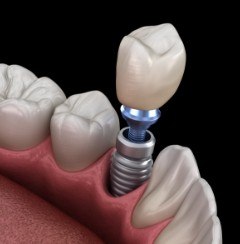 Placing a dental bridge means filing down two healthy teeth for the crowns. To avoid having to make such alterations to your natural smile, you can instead have a single implant placed into the gap where the tooth was. A crown will be attached after osseointegration is complete and the abutment is in place.
Missing Multiple Teeth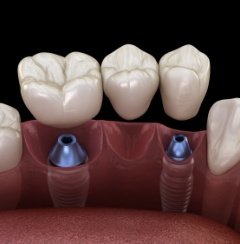 A dental bridge can be anchored to a pair of implants if you have lost three or more consecutive teeth. This is also a good option for those who do not have enough healthy dental structure to support a traditional dental bridge. Partial dentures can also be attached to implants if need be.
Missing All Teeth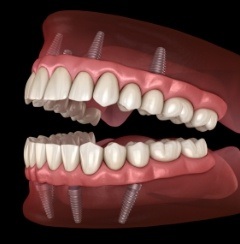 Implant dentures usually require 4 to 6 posts. They are guaranteed to stay fixed in place at all times, so you can chew all kinds of foods and speak in front of others with complete confidence. Since implant dentures stay in your mouth, you can brush them as if they were real teeth.
Understanding the Cost of Dental Implants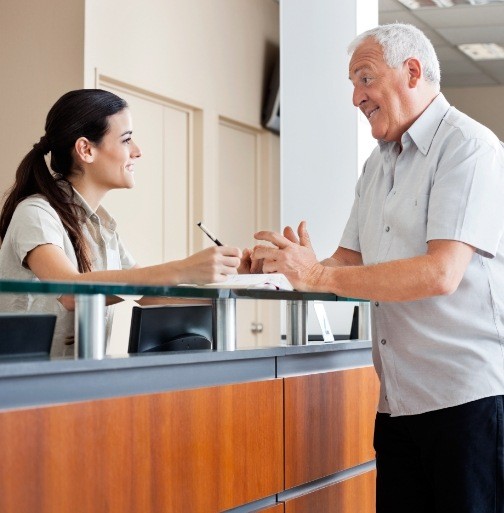 We will go into greater detail about the factors that go into the cost of dental implants during your first consultation. The final price will be higher than what you would have to pay for a more traditional treatment. That said, in terms of finances, dental implants may actually be the savvier long-term choice. Other tooth replacements need to be redone every decade or so, but dental implant posts last much longer on average.