Dental Implants – Newington, CT
Completely Restore Your Smile to Full Health
As useful as dentures and bridges are, they are just not the same as your natural teeth. They lack any roots and thus cannot perform the same functions as natural teeth that keep the jawbone healthy. Dental implants, on the other hand, offer a complete solution to missing teeth, so your new smile will look, feel, and function just like the real thing. Call Cedar Mountain Dental today to begin the implant process.
Why Choose Cedar Mountain Dental for Dental Implants?
In-House
Implant Surgery
Welcoming
Dental Team
Technologically
Advanced Practice
What are Dental Implants?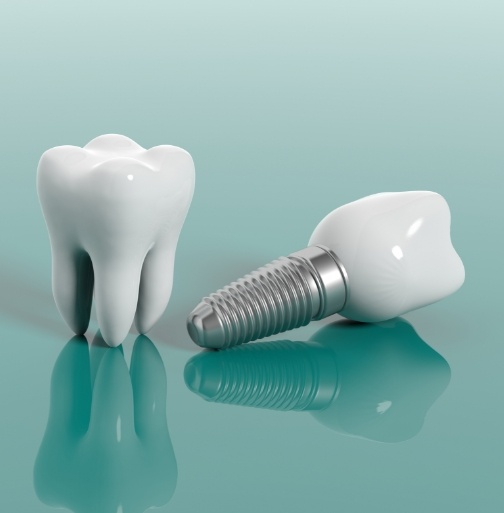 A dental implant is a small post that is placed in the jaw. By itself, it may be mistaken for a screw; once the mouth has healed around it, it can be used to support a crown, bridge, or denture. While your restoration will be used for chewing and speaking, your dental implant will be performing the important job of holding it in place while also providing stimulation for the underlying bone tissue. Implants are normally made out of titanium, a highly biocompatible metal that rarely triggers allergies of any kind.
The 4 Step Dental Implant Process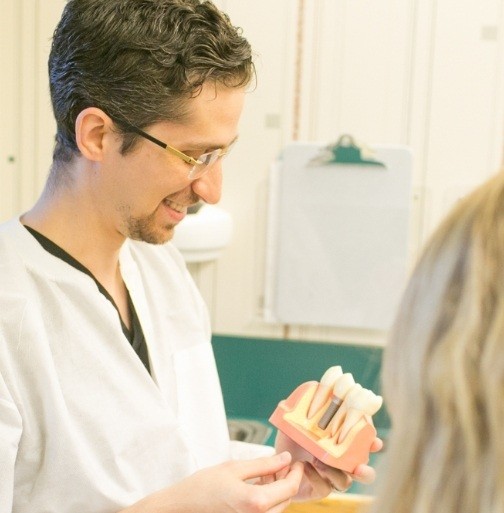 Dental implants are considered the gold standard of tooth replacement – and for a good reason. Even though the process takes several months to complete, many patients find that the incredible benefits are well worth the time and effort. At Cedar Mountain Dental, we're able to complete the entire treatment from start to finish at one convenient location. While every patient's treatment plan will look slightly different, there are four main steps that you can expect.
Initial Dental Implant Consultation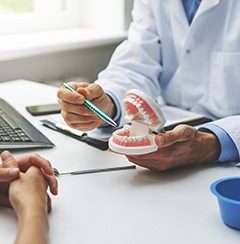 The first step on your journey towards a complete and fully functioning smile is a consultation with our team at Cedar Mountain Dental. During this appointment, we'll conduct an oral examination, review your dental health and medical history, and ask about your goals to determine whether or not implants are right for you. Based on our findings, we may need to perform some preliminary procedures (i.e., gum disease therapy, tooth extractions, bone grafting) to prepare your mouth.
Dental Implant Surgery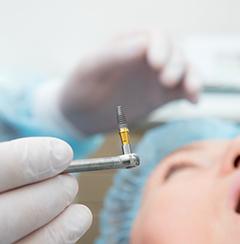 Because Dr. Korwin is specially trained in the surgical placement of dental implants, you don't have to worry about seeing another specialist for this step. In preparation for implant placement, Dr. Korwin will numb the area to ensure you're completely comfortable during the procedure. If needed, you can explore our sedation dentistry options as well. Once you're comfortable, we'll make small incisions in the gums, insert the implants at precise angles and locations in the jawbone, and suture your gums shut. Then, we'll place a protective cap over the posts to keep your mouth safe.
Dental Implant Osseointegration & Abutment Placement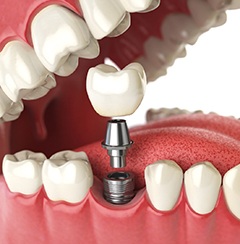 After about three to six months, the dental implant will integrate with the jawbone via a natural process called osseointegration. Once that step is complete, you'll return to the office for a second, smaller surgery to place the abutments on top of the post. While you heal, your final restorations will be made using impressions taken of your mouth.
Delivery of Dental Implant Restorations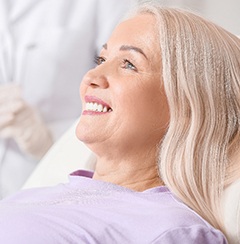 A trusted dental laboratory will custom make each dental implant restoration so that it fits perfectly inside your mouth. When it's ready, we'll call you back to the office and attach your crown, bridge, or denture to your abutments. Our team will make any final adjustments to ensure your new smile is exactly what you wanted. You'll be ready to enjoy your newly rebuilt grin that same day!
The Importance of Bone & Bone Grafting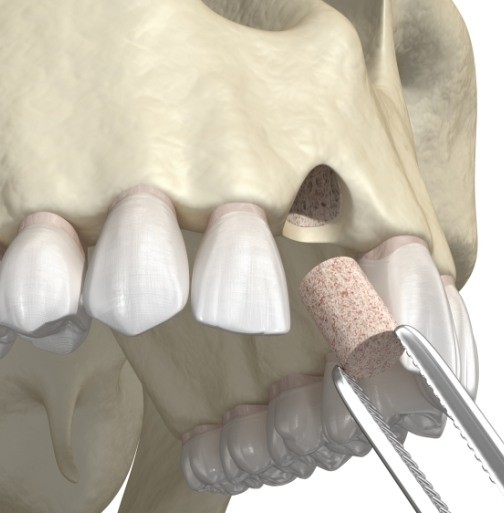 We may determine that bone grafting is needed before you can get implants. This is because in order for osseointegration to take place, there needs to still be a certain amount of bone in your jaw. Without the stimulation of natural teeth, the jawbone will start to be resorbed, and as a result bone density will decrease. With bone grafting, we can reverse the bone loss process by taking tissue from elsewhere in your body and applying it to the affected area.
Benefits of Dental Implants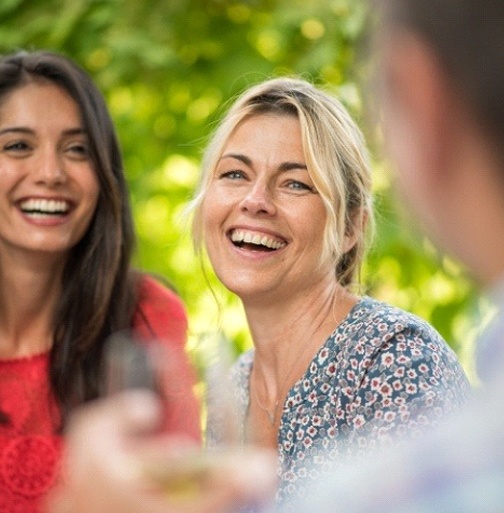 The benefits of dental implants in Newington are many. In fact, our dentists will make sure you are fully aware of the great advantages that can come from choosing these uniquely superior tooth replacements. During your initial consultation, you'll discover how stable, functional, and longer-lasting these implants are, but before you arrive, we want to give you a broader look at what you can expect when deciding dental implants are the right option for your future smile.
Day-to-Day Benefits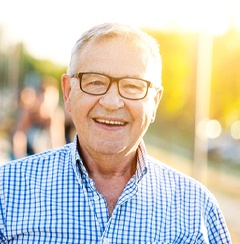 You will be able to chew steak, apples, and other foods that are difficult to eat with dentures or dental bridges.
It is much easier to take care of dental implants compared to traditional tooth replacements because they look and act just like normal teeth.
You'll embrace a better quality of life once you have dental implants. Instead of focusing on the potential for your prosthetic to slip or fall out, you'll feel confident smiling, eating, and speaking in front of others. Never again will you feel self-conscious about your appearance.
Health Benefits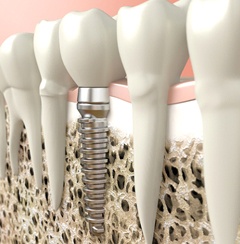 Unlike dental bridges that require the removal of healthy tooth structures, dental implants only anchor to the jawbone. This means you get to keep more of your natural teeth.
Your implants will help maintain your jawbone, which in turn improves your overall facial appearance.
The implants will help prevent atrophy of the bone tissue.
Dental drift becomes a non-issue with dental implants. Once an implant dentist in Newington positions and places your new prosthetics, your remaining teeth will stay firmly in place.
You lower your risk of diabetes, heart disease, and even osteoporosis by opting to replace your missing teeth with dental implants.
Long-Term Benefits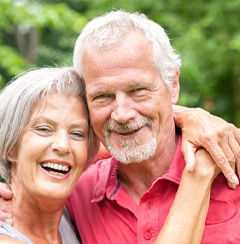 If you see a skilled implant dentist, you can expect the initial success rate to be around 95%. After 10 years, you'll be pleased to learn the rate remains between 90 and 95%.
The average lifespan of dental implants in Newington is 30 years or more with proper care.
You won't need to worry about wasting your money on denture adhesives, special cleaning solutions, or frequent adjustments or replacements. Instead, you can expect big savings when choosing dental implants.
Who Dental Implants Can Help?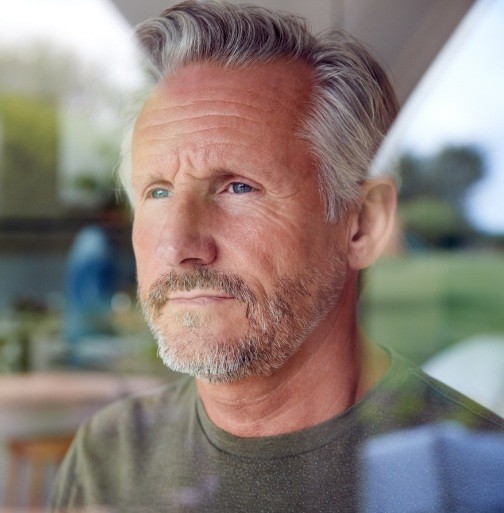 While dentists like to recommend dental implants to any patient that has missing teeth, the truth is that the procedure isn't for everyone. You can only get implants if you're in good overall health, if you aren't currently suffering from cavities or gum disease, and if you have a jawbone that's strong enough to support the posts. (All of these problems can be addressed with certain preliminary procedures.) If you're a good candidate, implants can be used to help you in the following ways:
Missing Single Tooth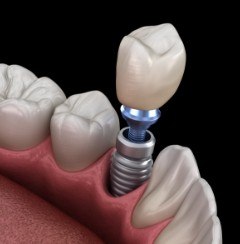 Placing a dental bridge means filing down two healthy teeth for the crowns. To avoid having to make such alterations to your natural smile, you can instead have a single implant placed into the gap where the tooth was. A crown will be attached after osseointegration is complete and the abutment is in place.
Missing Multiple Teeth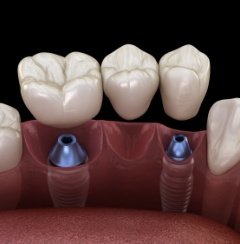 A dental bridge can be anchored to a pair of implants if you have lost three or more consecutive teeth. This is also a good option for those who do not have enough healthy dental structure to support a traditional dental bridge. Partial dentures can also be attached to implants if need be.
Missing All Teeth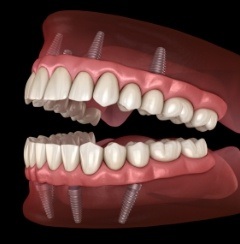 Implant dentures usually require 4 to 6 posts. They are guaranteed to stay fixed in place at all times, so you can chew all kinds of foods and speak in front of others with complete confidence. Since implant dentures stay in your mouth, you can brush them as if they were real teeth.
Understanding the Cost of Dental Implants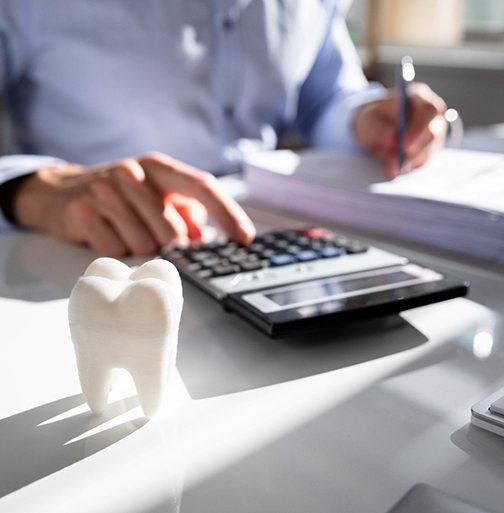 No two smiles are the same, which is why the cost of dental work can vary dramatically from case to case. It's difficult to find an accurate cost estimate for dental implants in Newington because it depends heavily on several factors, including the number of teeth missing, the type of restoration required, and the need for preparatory procedures. Even though the price for this method of tooth replacement is likely higher than other options, most patients find it to be a worthwhile investment because it lasts decades. At your consultation, we'll discuss prices based on your unique dental implant journey and give you a personalized cost estimate so you know exactly what to expect.
Preliminary Treatments & Dental Implant Surgery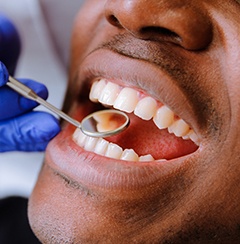 In some cases, preliminary treatments are necessary before dental implant placement. Procedures like gum disease therapy, tooth extractions, and bone grafting may be required to ensure the long-term success of your new smile. They do add to the overall cost of the process, but some treatments are partially covered by dental insurance, meaning you don't have to worry about paying for everything out-of-pocket.
Dental implant surgery has a cost of its own. The amount you pay is affected by the location of the surgical site and the type of sedation needed. Since we offer start-to-finish convenience here at Cedar Mountain Dental, you don't have to worry about managing bills from a different practice.
The Parts of Your Dental Implant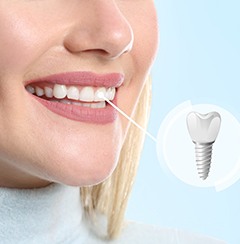 Let's take a look at the parts of your dental implant that influence the final cost:
Number of Implants – The more implants you need, the higher your price will be.
Type of Restoration – Larger restorations (like dentures) tend to cost more than smaller ones (like crowns). Aside from size, each type of restoration naturally has a different cost.
Material – If your implants are made of zirconia instead of titanium, it can affect the overall cost.
Brand – The implant manufacturer can also affect the cost. During your consultation, feel free to ask for more information regarding the brand of your dental implant.
How Dental Implants Pay for Themselves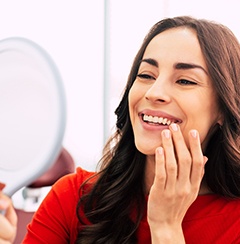 Patients with missing teeth may be tempted to opt for traditional dentures or bridges over dental implants to save money. But even though implants have a higher upfront cost, they end up paying for themselves in the long run. They're one of the most permanent methods of tooth replacement, meaning you don't have to replace them as regularly as other options. Since they're easier to take care of and maintain, you can reduce your overall healthcare costs significantly as well.
Will Dental Insurance Cover Dental Implants?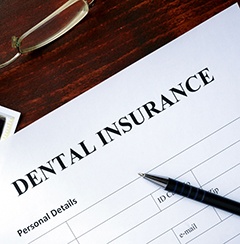 Although most dental insurance plans won't cover dental implants, there are a few exceptions. Some parts of the final restoration or certain preliminary treatments may be covered at a specific percentage. At your consultation, we'll carefully review the details of your policy and help you maximize your benefits as much as possible.
Making Dental Implants Affordable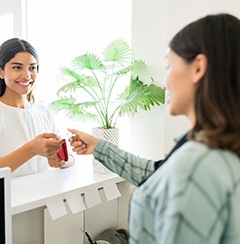 To ensure you'll be able to afford the services you need to protect your smile, we proudly accept a range of dental insurance plans, including Delta Dental Premier, Cigna, United Healthcare, and much more. We'll file the necessary claims for you and help you maximize your savings to the fullest extent possible.
Here are a few more ways we can make dental implants affordable:
CareCredit Financing – If you need additional help managing your out-of-pocket expenses, this option can help you make budget-friendly monthly payments that have little to no interest.
In-House Dental Membership Plan – If you don't have dental insurance, this plan can help you get the dental care you need without having to break the bank. All you have to do is pay a membership fee and enjoy reduced prices on our services throughout the year.
Dental Implant FAQs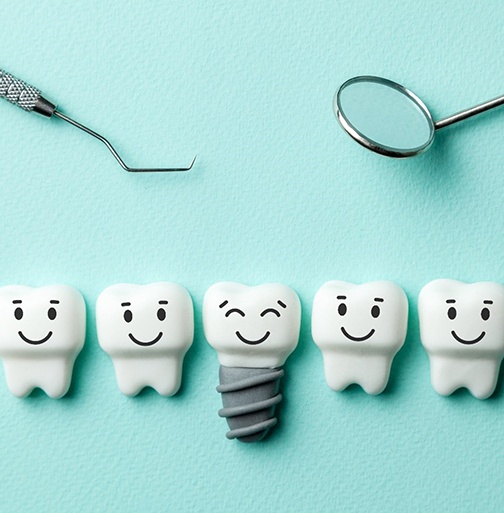 Dental implants are an excellent tooth replacement option, as they have so many benefits that you can't find elsewhere. However, they are quite an investment, so it pays to be well-informed. Here are the answers to some of the most common questions we receive about dental implants in Newington. If you don't see the information that you're looking for below, feel free to give us a call. We can explain more about the procedure and get you started with an initial consultation.
How Long Do Dental Implants Last?
The lifespan of dental implants typically depends on the health and lifestyle choices of the patient. Be sure to brush, floss, and rinse with mouthwash on a daily basis. Attend regular cleanings and checkups, and avoid chewing on anything particularly hard or sticky. With proper maintenance, dental implants can last upwards of 30 years. This is several times longer than traditional bridges or dentures!
Are Dental Implants Safe?
For the majority of patients in good health, dental implants are very successful when placed by a qualified professional. If you have low jawbone density or gum disease, these issues will need to be addressed before moving forward with the dental implant process. If you have diabetes, cancer, or another medical condition that could make either surgery or healing risky, we can discuss that during your consultation. Our number one priority is keeping you healthy!
How Long Does It Take to Recover from Dental Implant Surgery?
You should be able to resume your normal activities the day after surgery. Just be sure to avoid strenuous exercise for the first week or so, as this can delay healing. Bleeding should subside after the first couple of days, and swelling should go down after three to four days. Take recommended over-the-counter and prescribed pain relievers as directed. Generally, it takes up to six months for your implants to fuse with your jawbone.
Will People Be Able to Tell That I Have Dental Implants?
We will take impressions of your mouth that are used to design your personalized restorations. Once they are placed, no one should be able to differentiate them from your natural teeth. Implants are placed in the jawbone like tooth roots, so you won't need to hold your jaw in a certain way to keep them in place like you would with ill-fitting dentures. Ultimately, your dental implants should blend in perfectly with the rest of your smile!