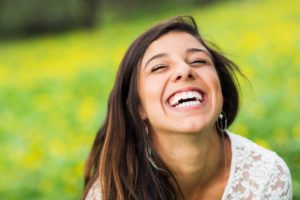 Nearly everyone would like whiter, brighter teeth, and this is particularly true as you age. As enamel wears away and your teeth begin to look stained, you may feel as though your smile is no longer an asset. Fortunately, teeth whitening can help you get back a whiter, more youthful smile that will increase your self-confidence.
What is Teeth Whitening?
Your teeth can become discolored over the years for several reasons, including the wearing away of enamel, consuming certain foods or beverages like coffee, tea, or wine, taking certain medications, or using tobacco products.
Teeth whitening is performed to help remove stains and discoloration from teeth, so you can achieve a whiter, brighter smile. It will need to be repeated from time to time in order to maintain the whitening effect.
What Types of Teeth Whitening are Available?
There are several different ways to whitening your teeth, and you should talk to your dentist about your options. They can recommend the best method in your particular case. Including:
Whitening/Stain Removal Toothpaste
This process may be able to make your teeth look slightly whiter after a few weeks, but can't lighten a stain that goes deeper than the surface of your teeth
Over-the-Counter Whitening Tools
Can come in strips, gels, or trays
In-Office Bleaching
Results are seen quickly after the whitening product is applied to your teeth and is followed with heat, light, or a combination of the two. This treatment may require more than one visit.
At-Home Bleaching
This treatment involves getting trays and bleach from your dentist to use at home
Laser Teeth Whitening
Bleach is applied to each tooth, with laser-generated heat speeding up the process
Dental Bonding
Bonds resin to your teeth to enhance their color
Generally, teeth whitening that's performed under a dentist's supervision can make your teeth whiter and provide more predictable results since you're under a dentist's care.
Your dentist can ensure that the products you use are of the proper strength and that your gums are protected during the teeth whitening procedure. At home teeth whitening can get on your gums and in some cases, cause burning and irritation.
What are The Benefits of Teeth Whitening?
Teeth whitening can provide the following:
A more youthful appearance
More self-confidence about your smile
Allows you to make a better first impression at job interviews, parties, etc.
Can work fast, depending on the type of whitening treatment you choose
If you are interested in teeth whitening and would like more information, make an appointment today or call our office at 860-667-2600. At Cedar Mountain Dental, our team is committed to providing high-quality care for all your dental needs.