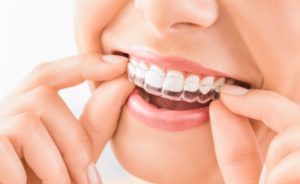 Straight teeth, as well as a proper bite, can help make your smile beautiful and healthy. If your teeth need straightening or your bite needs correction, you can choose between Invisalign clear aligners or traditional braces.
What is Invisalign?
Invisalign, also known as clear aligners, are virtually invisible dental appliances that straighten teeth. They look similar to retainers and can help fix a variety of dental issues, such as crooked teeth or overcrowding.
Invisalign does the same job as traditional metal braces. Invisalign aligners are removable, you can easily take them out to floss and brush comfortably. It's much easier to maintain your oral health compared to braces.
What Are Braces?
Traditional braces use metal attachments that are fixed to the teeth. Wires are strung through the attachments and adjusted to move teeth. Rubberband attachments may also be used to correct dental issues. Retainers for bite issues can also be part of traditional braces.
Invisalign: Advantages & Disadvantages
Advantages
Viable option if you have mild to moderate overcrowding and if you want to correct your smiles without noticeable metal braces
Moves your teeth gradually without any quick major adjustments
Removable and allows you to clean your teeth easier
Disadvantages
Invisalign trays can be removed and there is a chance that you will misplace them
Braces: Advantages & Disadvantages
Advantages
A better job correcting teeth that are severely crooked
Disadvantages
Due to the pain that can be caused by braces, you may have to eat soft foods until the pain subsides
More time and attention is needed to do a thorough cleaning for your teeth
If you are interested in Invisalign or braces and would like more information, make an appointment today or call our office at 860-667-2600. At Cedar Mountain Dental, our team is committed to providing high-quality care for all your dental needs including braces or Invisalign.