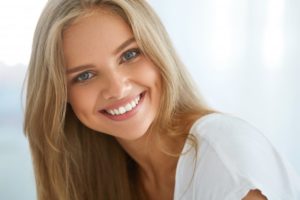 Your teeth may be discolored or stained for a number of reasons such as drinking coffee or wine or smoking. Teeth whitening can give you back a smile you'll have confidence in.
What is Teeth Whitening?
Teeth whitening brightens your teeth, wipes away discolorations, and removes stains. Whitening is a popular cosmetic dental procedure. It can visibly improve the look of your teeth.
How Often Should I Get My Teeth Whitened?
Whitening is a procedure that needs to be repeated regularly if you want the best results for the long-term. The number of sessions needed to keep your teeth looking their best will depend on the level of staining and the results you desire.
What Are the Types of Teeth Whitening?
Depending on the level of staining and the results you're looking to reach, your dentist may recommend one of the following teeth whitening methods:
Whitening/Stain Removal Toothpaste
Abrasive kinds of toothpaste can help whiten teeth by scrubbing away surface stains.
In-Office Bleaching
Your dentist applies a gel or shield to protect your gums. Then an application of bleach is made on the teeth.
Laser Teeth Whitening
Certain whitening agents need activation by laser light to do its work. Your dentist will apply the agent and activate it using the laser light.
DIY Teeth Whitening Kit
First, your dentist makes a mold and creates a custom mouth tray for a tight fit. A tight fit makes sure the whitening agent remains in close contact with the teeth.
The mouthpiece will be filled with a whitening gel your dentist provided. Typically, in a week or so, you'll have the whitening effect you want. For some people, four weeks or longer may be needed to achieve the desired results.
Over-the-Counter Whitening Treatments
Over-the-counter (OTC) whitening products can help with stained teeth. This can come in gels, strips, or trays
Dental Bonding
Your dentist applies resin to the tooth to correct stains/chips.
What Are the Benefits of Teeth Whitening?
Teeth whitening treatment provides a number of benefits, including:
Restores the appearance of your teeth
Comfortable, easy, and fast procedure
Treatment is personalized according to your needs
Improves the confidence in your smile
Is Teeth Whitening Permanent?
Teeth whitening is not permanent, and discoloration can reappear. Smoking or drinking may stain teeth in a short period of time. If you don't smoke or consume staining agents, your whitening treatment could last from 6 to 12 months. Discuss your whitening schedule with your dentist.
If you are interested in teeth whitening and would like more information, make an appointment today or call our office at 860-667-2600. At Cedar Mountain Dental, our team is committed to providing high-quality care for all your dental needs.