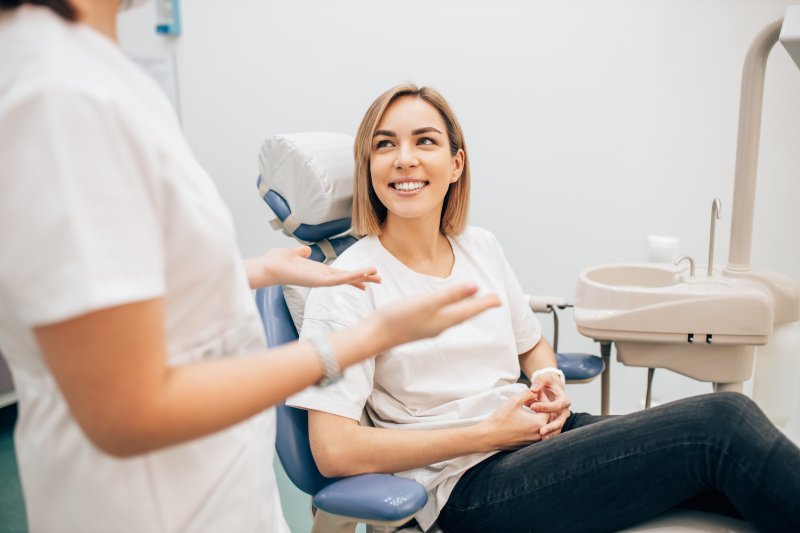 Do you have missing teeth that you're preparing to replace with dental implants? If so, your consultation with your dentist is a great time to discuss the procedure and bring up any questions or concerns you have before undergoing treatment. This will allow you to learn everything you need to know to decide if implants are the right tooth replacement option for you. So that you know what information to get from your dentist, here are four questions that you should ask them at your consultation.
Question #1: How Much Experience Do You Have with Dental Implants?
During your appointment, ask your dentist how much experience they have performing the dental implant procedure. You will also want to make sure that they are a member of the International Congress of Oral Implantologists as well as an oral surgery professional or a board-certified periodontist. This will allow you to determine if they have the qualifications you're looking for to perform your surgery correctly.
Question #2: Am I a Good Candidate for Dental Implants?
Dental implants are inserted through the gums and into the jaw, so both of these need to be healthy before you move forward with the procedure. If you're suffering from gum disease, it will need to be fixed with treatments like scaling and root planing or laser treatment. additionally, X-rays will be taken to tell your dentist if your jawbone is dense enough to support implants. If it isn't, they may recommend that you get a bone graft.
Question #3: How Does the Dental Implant Procedure Work?
Dental implants are the only tooth replacement option that bonds directly with the jawbone through a process called osseointegration. This makes them incredibly stable and allows you to gain back at least 80% of your bite power. Any dentist who is experienced with dental implants will be able to explain how the process works from start to finish. They should also be able to give you an estimate on how long it will take to place each implant.
Question #4: How Long Does Recovery Take?
Within two weeks of having implants placed, most people feel fine. Even so, it usually takes anywhere from four to six months for osseointegration to be completed. Recovery times may vary from person to person, but make the necessary arrangements for work, school, or any other responsibilities so that you have adequate time to rest and heal after the procedure. Additionally, avoid consuming anything crunchy, tough, sticky, chewy, sharp, acidic, or spicy until you're done healing as these things can irritate your mouth. Foods and drinks that are overly hot or cold should also be avoided.
By asking your dentist these four questions at your dental implant consultation, you'll be able to gather all the information you need to make the right decision for your smile. A full, healthy set of pearly whites will be yours in no time!
About the Author
Are you a resident of Newington or one of the surrounding communities who is interested in having one or more missing teeth replaced with dental implants? Cedar Mountain Dental offers in-office implant surgery so you can achieve your new and improved smile as soon as possible. Are you ready to set up a dental implant consultation with Cedar Mountain Dental or do you want to learn more about how the procedure works? If so, visit their website or call their office at (860) 667-2600 to get started on your journey towards a healthier, happier, and more beautiful smile.