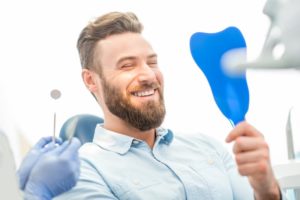 Although you may take good care of your teeth at home, it's important to visit a dentist routinely. Your dentist can check for issues that you may not feel or see. Many dental problems, such as gum disease, cavities, and gingivitis do not cause pain or become visible until these conditions are in their advanced stages.
Your dentist also checks your mouth, face, and neck for abnormalities. The dental exam may also include dental X-rays or other diagnostic procedures.
How Often Should You See a Dentist?
It's best to visit your general dentist at least once every six months. Depending on your situation, your dentist may recommend more or fewer visits to maintain your oral health.
What Can You Expect at the Dentist?
Your dentist evaluates the state of your teeth and gums by examining them closely. Your dentist also looks for any signs of gum disease or loose teeth. An examination of mouth tissues, the tongue, and bite is also conducted.
Your dentist looks closely for any signs of damaged fillings, tooth decay, and changes in the gums. If needed, X-rays are taken. If you wear any dental appliances, they are evaluated as well.
In the last part of your dental visit, a dental professional cleans your mouth by removing any plaque and tartar, flosses between your teeth, and polishes your teeth. Also, a review of recommended brushing and flossing techniques for you to do at home is performed.
What Services Does Cedar Mountain Dental Provide?
Our dentists are committed to keeping your smile healthy. We do so by providing a wide range of general dentistry services and procedures to help prevent, diagnose, and treat dental diseases.
We provide complete dental care that helps our patients smile with confidence. General dentistry services and procedures may include:
Oral exams
Tooth decay prevention
Dental cleanings
Dental fillings
Dental implants
Dental crowns and bridges
Partial or full dentures
Extractions
Root canal therapy
If you need to see a dentist for any reason, make an appointment today with Cedar Mountain Dental. Our dental experts use the latest state-of-the-art technology to prevent, diagnose, and treat dental conditions. With more than 30 years of dental expertise, our compassionate and knowledgeable dental staff is devoted to delivering high-quality dental care. Schedule your consultation today by calling (860) 667-2600.