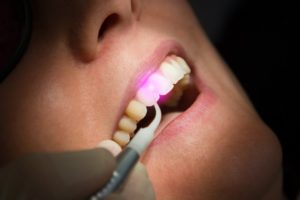 Laser dentistry is the use of lasers to treat a number of different dental conditions. Laser dentistry is another treatment option for different dental procedures involving hard or soft tissue compared to using traditional drills.
Laser Dentistry Procedures
Some dentists use lasers to perform certain procedures as an alternative to traditional methods. Lasers can be used for doing some types of procedures involving hard or soft tissue, including:
Tooth decay treatment and cavity detection
Gum disease treatment
Tooth hypersensitivity treatment
Lesion removal and biopsies
Crown lengthening
Tooth whitening
What Types of Lasers Are Used?
Dentists use lasers specifically designed for hard or soft tissue as needed. Hard tissue lasers are strong enough to reach into the tooth. Soft tissue lasers are used for treating gum issues, such as periodontal disease. Both types are able to cut through tissue or vaporize it in order to remove it or reshape it. Lasers that are used for teeth whitening serve as heat sources that help bleaching agents whiten tooth surfaces.
What Are the Advantages of Laser Dentistry?
Using lasers provides several advantages, such as:
Minimal bleeding, since lasers help blood clots form
Lower need for anesthesia, which reduces the risks of anesthesia used for some patients
Reduced risk of a bacterial infection, since laser technology acts as a sterilizing agent in the treated area
A lower amount of damage to surrounding healthy tissue
Faster healing time
Less anxiety for patients who are nervous about dental drills and other traditional dental tools
Who Makes a Good Candidate for Laser Dentistry?
Laser dentistry depends on certain factors, such as the type of dental work you need to have and the condition of your gums and the overall condition of your teeth. It is important to make sure that you see a qualified and experienced dentist for laser dentistry in order to determine if you are a suitable candidate for this type of dental care.
Your dentist can evaluate your teeth and gums and take other factors into consideration before letting you know if you can have this kind of dentistry work done. If you are not a good candidate for it, your dentist can provide you with other options for treatment.
If you are interested in learning more about laser dentistry and how it can help with your dental care needs, make an appointment today or call our office at 860-667-2600. At Cedar Mountain Dental, our team is committed to providing high-quality care for all your dental needs.